This was something I should've shared last January, but it took me time to learn how to do animated gif, so it was just now that I am updating my Bucket List.
I have been overweight for as long as I remember, and even if jumping up and down is something I have done when I was a kid, it became a dream thing to do as I grow up because I am too heavy to attempt something like that - I sure don't want to break the bed in half. Hahaha.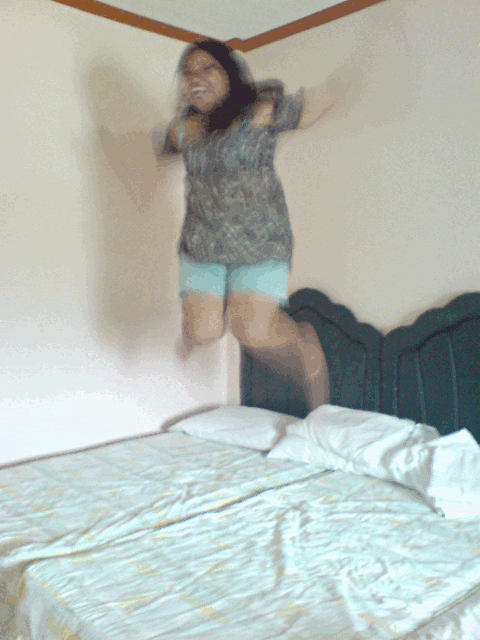 Last January, my first long road trip brought me to Hundred Islands in Pangasinan. Our island hopping finished earlier than expected, so we all just went back to the inn to take a nap or a little rest before we hit the road back to Manila. Seven of us shared one big room, and while waiting for Aunt Bing to finish taking a shower, I was with my two cousins watching TV.
The bed looked so sturdy, and because the room had four slightly bigger than single beds next to each other, I attempted to jump up and down. Three jumps and no creaks from the bed...it was my time to finally cross out an item off my list.
To take this shot, I set my cell phone's camera to "Best Shot" mode (which takes 9 images one after the other) and asked my cousin Jessica to click the shutter for me as I jump up and down. We tried it two times, and this set was much better.
To merge nine images, I created nine layers on GIMP- each with its own image and animated it. Before I found the short tutorial on You Tube a wee bit difficult to do, but this morning, I was able to give it my fullest attention, I was finally able to understand it.
Jump up and down on a bed? A fun, fun thing to do... a big check on
My Bucket List
.