Continuing with the vacation recaps...
05 March 2011
It was the main reason of us traveling to La Union... to visit our dad's grave as this day was his 4th death anniversary. It was just us visiting, but we figured it was okay, as long as there is one member of the family lighting a candle for dad. It was so hot and sunny that day, and we really had a difficult time keeping the candles lit.
My sister had our own quiet moments - as our way of praying and communicating with our dad, but after wiping our eyes, we tried to enjoy the moment. We brought the tripod, might as well use it, right?
When the candles have melted, we went back home. We ate lunch with Aunt Julie, but around 2pm, we went to Aunt Lorie's place to fetch cousin Mhai, as she promised to take us to the hanging bridge in San Gabriel.
We were supposed to check the bridge after we checked Tangadan Falls the other day, but because it rained hard, we canceled it as the land trail might be slippery. Cousin MC didn't come with us, but we took Ian and Louianne, daughters of our other cousins (Mhai's siblings). Getting to the bridge wasn't that difficult, though there were spots where I needed them to hold my hand as I was afraid to slip. The bridge wasn't scary to cross because it was fairly secured with chicken wires and that we had something to hold on to. I successfully crossed the bridge, but an accident happened when I decided to do a jumpshot somewhere in the middle of the bridge. If you can notice on the picture above - my knee had a small cut and there was a handkerchief covering my right toes because my toe was caught in between the metal rods, lifting the nail of my big toe. It was painful, but I guess the impact and the surprise numbed it. I can still smile, though I got bothered and worried about my toe not stopping from bleeding.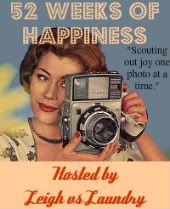 When we got back in Aunt Lorie's place, we noticed some kids skewering tobacco leaves. Sister wanted to try her hands at it, and seeing this, I encouraged her to try it. At first she didn't want to as the owner might get angry, but I told her she will wait one full year before she will have a chance like this again (tobacco season was Feb-April), so she decided to give it a try. It was a funny, funny moment sister had that time because she was having difficulty skewering the leaves, while the other kids were easily doing it, and they could even skewer the leaves without looking at it. After 20 minutes or so, she finished one stick, and she was ecstatic!
With all the talk of child labor and child exploitation happening in the country today, I would like to defend this picture... this is NOT child labor, as the three kids with sister (they're siblings, by the way) owned this whole lot of leaves and they were just helping a hand. They weren't forced to do it.
Anyway, the day was slowly fading, and we knew it was difficult to get a ride from here once it gets dark, we figured it was best to go home. We thanked cousin Mhai and MC for touring us and for letting us see another side of La Union, and we thanked Aunt Lorie for letting us invade her kitchen the other day. Obviously, "thank yous" aren't necessary, but we just wanted them to know how grateful we were. This was basically our last day in La Union as we will travel back home tomorrow, so it will take months before we could see them again.
When we got home, I consulted Aunt Julie about what to do with my injured foot... and it was annoyingly funny because when I told Aunt Lorie about my injury (even showing her my swollen toe), she just said, "At least you had a souvenir from San Gabriel." When I told Aunt Julie about it, she asked what happened and when I told about the jumpshot, she practically laughed at me for attempting "something stupid," though she didn't mention about the "stupid" thing... she just said, "You already knew how heavy you were.... of course it will wobble." Hahahahaha. It made me laugh about how my family seemed to be not alarmed by it, but I guess it was also because of me laughing while telling it to them made them think it wasn't that serious. Aunt Julie is a registered nurse, and as much as she blamed me, she was very concerned and quickly asked me to clean it and wrap it with gauze. She gave me all the medicines I needed (antibiotics included), to help with the pain and to minimize infection. She asked if we would still push through with our Vigan trip the next day, and I just answered her with a sounding "yes."
*** Jenn ***