I did take my 13th picture on time, but since my choice of picture didn't show my face (I join Shoot Me! meme, that's why), I decided to postpone the posting and just go for another 2-in-1 post this week. Now, these pictures were supposed to be posted yesterday as it is Friday here now, but the 14th prompt is "bed," and for a person who doesn't own a bed for now, I had to wait for the right moment to borrow mom and sister's bed, and it was just this afternoon that I was able to take my shot.
13|52. Feet.
I wasn't really confident to show my feet since then because it also had scars from my childhood illness, but in college, students weren't asked to wear uniforms, so I always wear sandals and compliments from classmates that I have nice feet was a good morale booster and when I learned how to give my toes a pedicure, my feet would get some pampering every weekend. At night, I would give my feet a good scrubbing (especially in my soles) and generously rub some baby oil before going to bed. Well, my soles
aren't
like that of babies, but at least it wasn't terrible. Hahaha.
Right now, I am finding ways how to whiten my feet. Wearing flip flops during my last vacation burned my skin and applying red nail polish (just today), I realized how dark my feet are now., but of course, even if it becomes the darkest feet on the face of the world, I am loving my feet because my feet allowed me to discover places. It may be the bottommost part of my body, but I love it as much as I love my head... and the whole of me.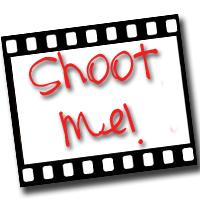 14|52. Bed.
While watching noon time show inside mom and sister's room (they share the bed since my dad passed away four years ago), I thought about this week's prompt and I struggled a bit how to show my picture. I thought about borrowing brother's camera, and taking separate pictures and checking each of the pictures, I thought about doing this photo manipulation called Photo Cloning. I know I don't look that good lying on the bed, but doing a picture like this made me laugh so hard about how cute the whole thing is - seeing two of me. :) Please excuse me if the picture wasn't 100% beautiful, this was my first try, and I think I deserve the right to adjust. Hahahaha.
Like what I have said in my first paragraph, I don't own a bed for now. Currently (by choice), I am sleeping on our living room floor, using a futon. It wasn't a comfortable material to sleep on, but it allowed me to sleep soundly at night. Right now, my room is being used by cousin Jayson, who is staying here while reviewing for the Board Exams, so even if I wanted to use my own bed for this shot, I just can't as he was at home today, and is using the room to have total silence.
Anyway, in case you're wondering how I did this image, please watch the video:
... so amazing, eh? I am now planning to take the tripod out and find a good spot to do this kind of photo manipulation. Wish there are more of you? Well, it might not be possible in real life, but with a little touch of imagination and technology, it is somewhat achievable.
*** Jenn ***