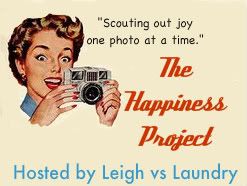 Every Christmas season, the kids of Children's Joy Foundation (an orphanage) would perform in different offices. They first started performing in mom's office, then in 2007 they asked mom if they could come to our house to sing some Christmas carols, and mom just asked them to come here in our place during the neighbors' Christmas party so many people can watch them perform. For their part it would be a good chance to have more funds, and for our part it would be a good chance to share our blessings.
Mom told the spokesperson that our neighbors' Christmas party (see previous post) would be on the 26 December, but there has been a miscommunication because they didn't arrive. Instead, they arrived late afternoon of 27 December, and even if mom was ready to hand them the envelope, the head of the group still insisted they entertain us.
Mom set up our part of the street and called some neighbors to watch the performance. It was a good thing that it was a non-working holiday, so most of the parents were able to watch them. They played bandurria, guitar, beat box and violin... they first played Justin Bieber's "Baby," then went on to play some Christmas tunes.
This was a video my brother took using my cell phone. While the girls playing bandurria were taking a rest, the violin, guitar, and beat box players took the "stage." I was really amazed at how good they played.
All of these kids (as well as their leader - in brown) were orphans. Sometime during their performance I imagined what would their life be if their parents didn't abandon them. Part of me was sad that they didn't get to live a "normal" life, but seeing how talented and good they are, I was happy that they were given the chance to develop their skills. Somehow I felt jealous at them because I don't know how to play the bandurria and the violin.
They were very nice, friendly, and jolly kids. After their performance, we invited them for some snacks because we knew their "house" was quite far. We served them some native delicacies as well as different biscuits and cookies. Brother placed it in a box and just asked them to "dig in," and it was like a cookie frenzy! Before they left, some kids took some more biscuits to take home. Their happiness over some packs of biscuits made us happy - it was a simple moment, yet it brought us sheer happiness.
We look forward in seeing them again next Christmas season.
*** Jenn ***