A few months before, I started posting for the Shoot Me! meme over my Project 365 blog, but since I decided to let go of the blog, I also found myself not posting for Shoot Me! anymore. Well, as my way of celebrating my life and my persona, I decided to do the meme here. It's back to square 1 for me, but it's okay. :)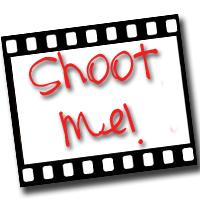 17 October 2010
We used to have a big, black female cat we named "Gabby." During dad's funeral nearly four years ago, Gabby was on her last month of pregnancy, and it was quite unfortunate that she gave birth while the family was in La Union where we buried dad. When we got home, my Uncle Carlito (mom's brother - he stayed in our house while we were away) said the cat gave birth "last night," which was also my dad's interment.
The next morning, I came to check on Mommy Gabby and her litter, and the first kitten that I grabbed was this black kitty (they were in some corner and I just blindly touched them by creating a space where my hand could fit), that looked exactly like the mother. Realizing the kitten is a male cat, my sister and I agreed that we would take care of it. We instantly named it "Paborito," and really, this cat did become our favorite cat, and even if we had many cats after this was born, I would always consider him my favorite. For sometime, I had a feeling he might be my dad - well maybe because he was born the day we buried dad, and growing up, this cat would sleep in dad's side of the bed, using dad's pillow, which my mom didn't take away until now.
This is the only cat in the house that celebrates birthday. On his first year, mom and I just made a little hush hush celebration because the mother in the house next door died on the same day. On his second year, celebration was much noisier, and my sister even bought a cake for him (not chocolate flavored, of course). On his third year, we were very sad because he was already mature, and he started roaming around the neighborhood looking for a mate, and he rarely goes home.
This picture was taken not too long ago, when he came home to eat dinner. I was really happy to see him in the house, and although he's not home most of the time, he would still allow me to carry him and cuddle him as much as I could. He will always be my Paborito, but of course, I do love my other cats as well.
*** Jenn ***