Two Fridays ago (yeah, I am such a slow blogger, I had too many pictures to resize and things to catch up on), my friends and I traveled to Coron, Palawan. It was a trip nearly a year in the making, and I was very thankful and happy to be a part of it.
Last year, I was quite new to this forum and I got to be online friends with Ferj, who's into photography like I am, and when I visited his thread in the forum, his close friends were planning a trip. They listed the places they wanted to visit, and would ask everyone (in the group) to vote where they wanted to go. I am not part of their group, but because they included Vigan City in the list, I responded and gave them my point of view. Next thing I know one of them (Ara) sent me a message asking me to come with them.
As the days passed, there were hesitations on my part because it was only Ferj whom I know in the group (and I haven't met him yet that time), and I was afraid I might be an odd-man out, but as I get to interact with them in forum more and even met some of them (Ferj, Kei, and Leux) in person, I realized I don't have to be hesitant.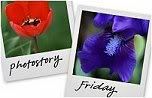 Hosted by
Cecily
and
Sports Mama
Friday, 09 October 2009 - I met up with Leux and Kei in MRT Ayala Station where we took the cab to the Old Domestic Airport. Actually, days before the trip we were having problems which airport to go to. I was just happy that Kei asked me if we could meet first before going to the airport. Leux and I met up first and while waiting for Kei, Erick sent a message that we should go to the Old Domestic Airport. Our flight was at 9:40AM, and a little past 8AM, we were already there. In the airport we met up with Erick, Lei, and Dianne whom I just met for the first time.
It was a rocky flight - at least for me. I am not sure if the lack of sleep contributed, but as the plane left the runway I could feel some sweat in my forehead. It wasn't my first flight, but what I felt was worse than how I felt during my first flight. Add the heavy clouds and the turbulence to the discomfort. When it landed in Busuanga Airport, I was happy to have survived the flight (I really thought my head and heart would pop). Happier I was when we were told that the incoming flight after us were asked to fly back to Manila because of the zero visibility. Now I understand the discomfort -the pilot was so risky... I love him. Hahaha.
The minute we arrived in Mommita's Lodge where we would stay for the night, Mommita immediately asked us to fix ourselves so we could visit Cabu Beach and Maquinit Hot Springs. It was a great trip for us. Aside from the two places visited, it was so great to be eating lunch with the view of Siete Pecados. Day one have been great!
Day 2. We were suppose to hike to Mt. Tapias as early as 5AM so we could see the sunrise from the top, but it was raining. At around 7AM, when the clouds were a bit considerate, we decided to climb up. There were concrete steps to the top the mountain, but with 700+ steps to climb, it was really a test of patience, endurance, and faith. Being an unhealthy person, it was difficult for me to take the trail. Actually, I was trailing behind my companions. If not for the kids (who were selling water) who stuck with me, I don't think I can make it. 3/4 of the way, I gave up. My heart was about to leave my chest, I was breathing heavily... even my head was beating! I told myself I will just content myself where I was and enjoy the view, but as I take pictures, maybe my body was able to rest, and with the little strength gained, I moved forward and reached the summit. It was sweet!
When we got back in the lodge, we packed our things and head on our way. We went to the market to buy some foods and continued with the island hop. We went to Banana Island where we ate lunch and dipped in the water. We were supposed to still go to Malcapuya Island, but because we were a bit tired from our stay in Banana Island and we felt the experience would be the same, we just asked the boat owners to pass by Malcapuya Island. Then we head to Bulog Island where we spent the night.
Day 3 was a great day for us. I was able to see the sunrise, and we got to spend more time in the water and picture taking. It was a great blessing for us to be staying in Bulog Island. While we were in the stages of planning this trip, another member in the forum got to read the thread and said they own an island in Coron. He let us stay in the island at a discounted rate, I loved the island, it's 360 degrees of pure awesomeness (is there a word like that)? And... because the tide in the morning wasn't that high, one actually cross the water to the nearby Bulog Dos Island. We encountered a little accident there when Dianne fell as she was trying to go down an little mountain, but all was well.
We ate lunch in the boat, and passed by Twin Lagoon. We were told that we had to go down the boat and swim if we wanted to see the lagoon, but because we were trying to save up on money and time, we didn't go down anymore and just went to the Kayangan Lake. It was another test of endurance on my part as we had to climb the mountain again and go down in order to reach the lake, but if you're going to see a sight like this, it was very well worth it. Surely, in order to appreciate the beauty and goodness of something, we have to endure some.
After the Kayangan Lake, we head back to the port and returned to Mommita's Lodge to eat dinner. We also took the time to buy some souvenir. I bought my sister, brother (and his gf) a shirt, and I bought myself a key chain.
At around 11PM, we boarded Superferry Our Lady of Good Voyage. We decided to take the ferry going back to Manila so we could have more time together. It was our first time to ride a big ship, and because we booked early, none of us had the idea that cheap tickets meant cheap accomodations. None of us liked the section were we're supposed to stay, but Leux and I cannot afford an upgrade and we had to stay in the Orange Section while the four of them were in the cabin.
I was so touched with Lei and Dianne's gesture of waking Leux and I up because they were worried about our safety. The four of us just decided to go to the canteen where we drank some vodka and beer while playing poker. We also sang some songs on the videoke and just owned the canteen. At 5AM of Day 4, they asked Leux and I to come with them in the cabin where we took some snooze. It was around 8:30AM when I got and checked the view, then soon after all of us ate breakfast, took pictures, ate lunch, and rested. At 2PM, we docked in Manila South Harbor.
The trip that was a year in the making might just ended, but the memories will be there forever. So many things I experienced in this trip, and I owe it all to Ara who invited me. I am so thankful to have met these great individuals... it was so sad that Ara and Ferj weren't able to come, but maybe next time.
Big thanks to Lei who took care of the arrangements; to Leux for the encouragements - I really am not confident in water and sorry I can't take the kayak to Bulog Dos; to Kei who has been like a little sister to me - thanks for sticking with me; to Dianne for being always a game for modeling; to Erick who let me shoot pictures side by side with him. For sure his pictures were much greater than my shots, but it was indeed a nice experience to take pictures next to a great photographer. Of course, I would like to thank Francis, too, for letting us stay in Bulog; to Mommita and Tatay Lito for the great accomodation, and to the rest of the people we met in Coron.. thanks!
*** Jenn ***