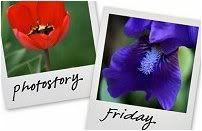 Hosted by Cecily and MamaGeek
21 March 2009
Being a big fan of the sunrise, seeing Halie (DarkEinjel) posted a sunrise shot from her home in the forum made me want to sleep over her house so I could see it, too. She was very open to the idea, so before I went to Cebu, we set up a date when we can do a photo walk aside from the sleepover I will be having.
We decided to do a photo walk around University of the Philippines (Diliman), but when she said she also wanted to see University of Santo Tomas (Manila), I quickly agreed to it because it was in this university where my father studied in college. While talking about the photo walking, one member of the forum, H (IamTripleH) expressed his eagerness to come with us, and we just live with the idea of "The more the merrier," so we let him come with us.
Halie and I met up in Araneta Center, Cubao where we took a taxi going to UST. Sadly, H cannot come with us as he had an emergency meeting in the office. Anyway, it was the first time Halie and I saw each other personally, but the friendship we have shared through the forums made it easy for us to get along. When we got to UST, we had quite a difficult time entering the campus as we were out of words to answer the guard's questions, but after stuttered answers from us, he let us enter the campus.
It proved to be a wrong timing for us because there was a pre-school graduation at the UST Church where only families of the graduates were allowed to enter, and that they were setting up the space in front of the main building for a Seniors' Night. Add to that the very harsh sunlight, which made taking pictures highly difficult. Still, we managed to get some shots, and here are the products of my camera:
The facade. See the tarp and the stacked chairs? An eyesore really.
The main building. I had to set my camera to EV-2 because the sunlight was way too harsh.
There were two fountains by the entrance of the campus, this one was the fountain to the right from the entrance.
Stepping inside the university made me felt how my dad must've felt decades ago. This has been his home for 6 years - studying and working at the same time. I also felt regret and shame as to why I was so coward not to take the entrance exam in this university. What if I passed? This might've been my home, too! Oh well... maybe in the next lifetime.
Halie and I rushed to get a bus going to Philcoa. We decided to walk from Philcoa to the Quezon Hall of University of the Philippines - Diliman, so when we get to see something, we can just easily take pictures of it. It was a long walk, but when you're talking to a person as bubbly as Halie, you will never feel tired from walking.
My shots from UP Diliman:
I just loved how the trees covered the road.
Sunset by the oblation.
Near the Quezon Hall was this sculpture, and it was a nice one, however the one seated looked creepy. I just posted this image instead of the other, because her eyes that creepy here.
Halie received a message from H that he will try to come and meet us in UP Diliman, so we waited for him. However it was getting dark, and we still wanted to go to the Quezon Memorial Circle, so we left the place. While in the taxi, H said he's on his way. We just asked him to meet us in the QC Circle.
The last time I stepped inside this place was in 2002. After a few minutes, H arrived, and although it was the first time the three of us met personally, we were like friends who haven't met each other for years! We were so loud - jokes and laughter all over! I personally am thankful H met us up because he knew places to check out in this area.
In memory of Former President Manuel L. Quezon.
An ironic shot, considering this place is flocked with people during weekends and night time (according to H).
The playground. I don't know how to tame the light from the post, though.
H had to rush back to the office - he just took the dinner break to meet us up, so while walking to the Quezon City Hall, H thought of the idea of us doing a photo walk every month. He also suggested we do by with a theme, so next month it would be all about nature, and we are going to the La Mesa Eco Park. Halie will be bringing foods, I will take care of the drinks, and H will take care of the jokes. Pfft! =)
And here are us - me, H, and Halie, we stopped by the stairs of the underpass and since we still haven't had a group shot, might as well take it here. It had been a great time photowalking with you guys! 'Til next time!
*** Jenn ***
ps - I did sleepover Halie's house. We ate dinner in Gateway Mall (Cubao) then we traveled to her place. More stories tomorrow.